We are open every day for experienced jumping provided the weather will allow us to jump. Whether you like RW, freeflying, CRW,or accuracy, we have it all at Skydive Greene County. We have many jumpers who have been around for awhile and some new faces as well this year-we would love to have you be one of those!
We have a main landing area of over 5 acres and an additional 10 acres as a secondary with hundreds of acres for safe outs if you do happen to land off the airport. Please ask to receive a complete area briefing if you are new to the dropzone area.
Our office/Clubhouse building is the center of our DZ. In this building you will fill out all waivers, purchase jump tickets(See ticket prices below), manifest for loads and check in after landing. Located in this building is our restrooms, showers, and an additional TV viewing area. This is also where all students will undergo their training. Our rigging loft is also located in this building. We have a hanging harness trainer system available for all jumpers, as well as rental equipment if you need a rig. In addition we have a full gear store will everything from goggles to canopies to t-shirts to baby onesies! See Kenny for details.
Our packing hanger easily will allow 40 people to pack at the same time. We provide rig racks for your convenience. In addition, we have packers who can pack your gear if you so desire.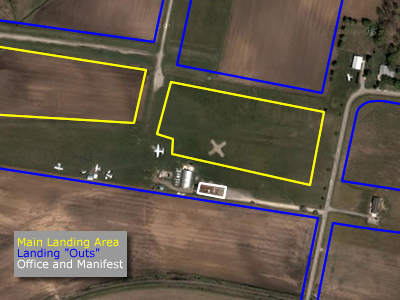 Located in the hanger are boxes of rubber bands, pull up cords and a canopy rack for canopy inspections. Limited power outlets are provided for charging your video camera or other small items. Also located in our packing hanger is a TV viewing area to debrief after your latest jump, a VCR is available on a as needed basis. Limited numbers of storage areas are available on a seasonal renting schedule. We have additional packing tents we get out for the busy boogies too. Located in front of our hanger is a creeper pad large enough for multiple 4 way teams to practice. Contact manifest for more details on lockers or any of our facilities.
Lastly, if you are hungry or thirsty, visit our delicious concession stand, located on just past the clubhouse between the hanger.
* HOOK TURNS ARE NOT ALLOWED at Skydive Greene County

 Experienced Jumper Pricing:
Westwind Full altitude:
$24.00 – 12,500 ft/club price
Cessna 182 Pricing:
$24.00 – 9,500 ft
$18.00 – 5,500 ft
We now have two Twin Turbine Westwinds as our primary aircraft!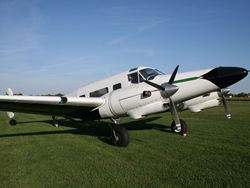 Skydive Greene County is proud to be flying two Westwinds, This plane is one of the fastest jump planes in the country!
Our unique jumpships have a large interior and huge door, you will have no trouble jumping from our planes. Our twin turbines sit up to 12 jumpers and have a turn around time to 12,500 ft of nearly fifteen minutes.
We also have two Cessna 182's on stand-by that will take up four jumpers from 4,500 ft up to 9,000 ft.

Looking for a place to stay during your visit to Skydive Greene County?
FREE tent camping is allowed on the Dropzone. Couches are in the hanger and club house on a first come basis.  Travel trailers may also be brought to the dz, or there are motels located within 10 miles of the dz.