Our primary aircraft is a Twin Turbine Westwind!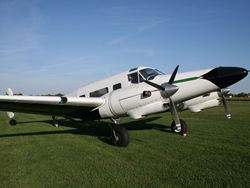 Skydive Greene County is proud to be flying TWO Westwinds.  These amazing airplanes are two of the fastest jumps planes in the country!
These unique jumpships have a large interior and huge door, you will have no trouble jumping from this plane. Our twin turbines sit up to 12 jumpers and have a turn around time to 12,500 ft of nearly fifteen minutes.
We also have two Cessna 182's on stand-by that will take up four jumpers from 4,500 ft up to 9,000 ft.