Skydive Greene County offers first-time skydivers the ability to jump from a plane by making a tandem skydive and then continuing your skydiving career with our static line program.

Tandem skydiving is an exhilarating, easy, low stress way to make your first jump and is the most widely used method of skydiving across the United States. Our tandem training method involves you being harnessed to one of our highly trained and skilled tandem instructors rated by United Parachute Technologies as well as the United States Parachute Association.
To book your tandem skydive today call us at (937) 372-0700 or come on down to our dropzone located at 177 S. Monroe Siding Rd in Xenia, Ohio (click here for directions).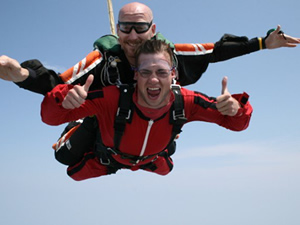 We welcome walk-in's at S.G.C. and will work to fit you onto our schedule so you can make a skydive with us. Please note, you must be at least 18 years old to make a skydive at SGC.
After filling out paperwork and watching a short video you will be ready to make your skydive. Somewhere around 11,500 feet you will be harnessed to your tandem instructor, the door will open and you exit the plane.
Your freefall with your instructor will last for approximately 40-50 seconds. We can almost guarantee this will be the most exciting minute of your life as you reach speeds of around 120 mph as you fall for nearly two miles back to Earth!
When you reach opening altitude, your instructor will deploy your parachute made for two and you will glide you back to the landing area taking in the beautiful sites along the way.
Also, you can capture on film, the spectacular skydive you just made by having one of our great camera flyers film your adventure. Our camera flyers will put together professionally edited video of your jump. Our videos include pre- and post- jump interviews, the ride to altitude, of course your freefall, and landing. Many of our camera flyers have had their pictures featured in national magazines such as Parachutist and Skydiving Magazine!
If you have additional questions, please call us at (937) 372-0700 or visit our Frequently Asked Questions Page!
Once you have made your tandem you move on to our Static Line Program. Check out our First jump Rates below, and don't forget to have a video taken of your skydive to show all those that didn't think you would jump from a perfectly good airplane!

STATIC LINE COURSES DAILY – CALL TODAY!!!
A Static Line Jump is defined as "a parachute jump during which deployment of the parachute is initiated by a static line attached to the aircraft." The Static Line Jump is the "traditional" way to learn to skydive. Here at Skydive Greene County, we have classes through out the year, taught by USPA licensed Instructors.
We offer our Static Line course seven days a week. To book your Static Line Course, call us at (937) 372-0700 or come on down to our dropzone located at 177 S. Monroe Siding Rd in Xenia, Ohio (click here for directions).
We have the most current and up to date gear available to the skydiving industry to make your skydive as safe, comfortable and most of all, as FUN as possible. All of the student gear at Skydive Greene County is maintained by certified FAA Riggers.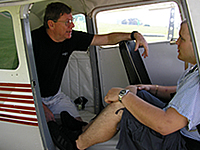 Every student will be led through the entire day by a USPA licensed Instructor. Never does the student at Skydive Greene County feel unattended.
Once training is over and each student is ready, they are led by their Jump Master to make their first jump. Static Line classes (depending on the weather) will jump right after the class is finished, that very same day!
We use ground to air communications with their students so they are able to get back to the Drop Zone and have a soft, gentle, on target landing.
If there is bad weather on the day of a scheduled Static line course, we will still train you for your jump. Once Training is complete we will wait on the rain to clear or the winds to calm down so that you can make your jump. If the weather does not cooperate, you can come back the next day, or we will re-schedule a time to make your skydive.
After making your skydive, our students are given a logbook filled out by their jumpmaster, to take with them for their next jump, as well as a leaving with a memory of a lifetime!
If you have additional questions, please call us at (937) 372-0700.