STATIC LINE COURSES DAILY – CALL TODAY!!!
A Static Line Jump is defined as "a parachute jump during which deployment of the parachute is initiated by a static line attached to the aircraft." The Static Line Jump is the "traditional" way to learn to skydive. Here at Skydive Greene County, we have classes through out the year, taught by USPA licensed Instructors.
We offer our Static Line course seven days a week. To book your Static Line Course, call us at (937) 372-0700 or come on down to our dropzone located at 177 S. Monroe Siding Rd in Xenia, Ohio (click here for directions). No deposits are ever required at SGC, we just ask for a courtesy call if you cannot keep your scheduled appointment. Please note, you must be at least 18 years old to make a skydive at SGC.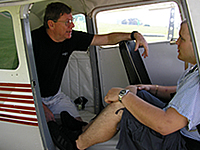 We have the most current and up to date gear available to the skydiving industry to make your skydive as safe, comfortable and most of all, as FUN as possible. All of the student gear at Skydive Greene County is maintained by certified FAA Riggers.
Every student will be led through the entire day by a USPA licensed Instructor. Never does the student at Skydive Greene County feel unattended.
Once training is over and each student is ready, they are led by their Jump Master to make their first jump. Static Line classes (depending on the weather) will jump right after the class is finished, that very same day!
We use ground to air communications with their students so they are able to get back to the Drop Zone and have a soft, gentle, on target landing.
If there is bad weather on the day of a scheduled Static line course, we will still train you for your jump. Once Training is complete we will wait on the rain to clear or the winds to calm down so that you can make your jump. If the weather does not cooperate, you can come back the next day, or we will re-schedule a time to make your skydive.
After making your skydive, our students are given a logbook filled out by their jump master, to take with them for their next jump, as well as a leaving with a memory of a lifetime!
First Jump Pricing:
$175.00 Static Line Course only
If you have additional questions, please call us at (937) 372-0700.
(click here for a detailed .pdf of our Static Line Course)